Meet the extraordinary athletes who proudly wear our LIGHT Helmets – a stellar lineup of talented individuals who exemplify excellence on and off the field.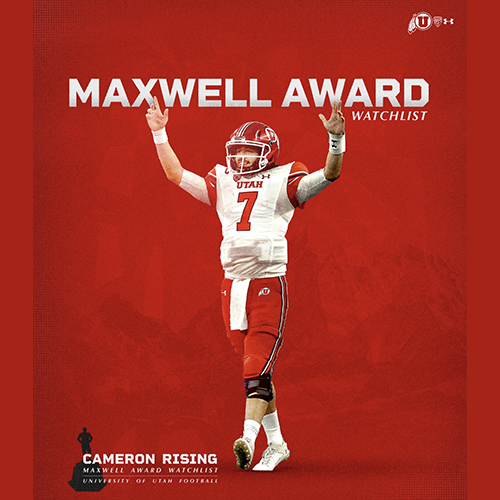 PLAYER HIGHLIGHT
University of Utah quarterback Cameron Rising has been named to the Maxwell Award Preseason Watch List!
The Maxwell Award is presented annually to the College Player of the Year with Rising being one of seven semifinalists from last year that have returned for the 2023 season.
READ MORE
CAMeron RISING

The formidable quarterback leading the charge for the Utah Utes! As a true team player and a dynamic force on the field, Cam's determination and skill have earned him a prominent spot in college football.

CAM'S INSTAGRAM

BLAZE

Rudolph 'Blaze' Ingram is a powerhouse on the field and an inspiration to young athletes worldwide. With his blazing speed and unwavering determination, Blaze has taken the football world by storm.

BLAzE's INSTAGRAM
CLARK HAZLETT

Clark is a professional football player and currently signed to the Saltillo Dinos of the LFA. Clark is known for his big play making abilities and athleticism. When hes not playing football, he is also a country music singer/songwriter!

Clark's instagram

JEREMIAH JOHNSON

Meet Jeremiah Johnson, the remarkable football prodigy who has taken the internet by storm. Though he may look older, Jeremiah proves that age is just a number when it comes to talent and passion for the game.

Jeremiah's INStagram
Cameron "Flash" Lilavois

As one of our earliest LIGHT players, Flash's dedication and passion have set him apart. Known as "Flash" for his lightning-fast moves, he embodies the spirit of speed, agility, and unwavering commitment.

Flash's Instagram

CANE REEVES

A dynamic youth football player hailing from the Lone Star State of Texas. Known FOR HIS UNBELIEVABLE ABILITY TO CATCH THE BALL AND HIS UNMATCHED FOOTBALL IQ ON THE FIELD. CANE IS ALSO A HARD HITTING LINEBACKER AND BECAUSE OF THAT CANE HAS EARNED THE FITTING NICKNAME "HURRI-CANE."

Hurri-Cane's instagram

Jace Godsey

JACE IS A DUAL THREAT QB WITH EXTRAORDINARY PHYSICAL SPEED, ARM STRENGTH AND ACCURACY.  THIS YEAR JACE HELPED LEAD HIS TEAM TO A USA FLAG NATIONAL CHAMPIONSHIP AND WORLD CHAMPIONSHIP.  HE ALSO WON THE 2023 TX QB STATE CHAMPIONSHIP CROWNING HIM THE #1 TEXAS QB PROSPECT IN THE HIGH SCHOOL GRADUATING CLASS OF 2033.

Jace's instagram